In Legrand Cloud CRM, you can import existing company and contact information from an Excel spreadsheet into your Cloud CRM. Go to the administration panel in Legrand CRM and select 'Import Data'.
1. File Upload
Click 'Choose File' and upload your Excel file to Legrand Cloud CRM. Ensure that your Excel file containing a list of company and contact information is in the same format as the samples provided.
Click below to download a sample file.
Click 'Next' once you have uploaded the Excel file.
2. Map Fields
After you have uploaded your Excel file, Legrand Cloud CRM requires you to map the name of columns in the Excel to Legrand Cloud CRM data fields. Once you map the Excel column names to Legrand data fields, click 'Next' to proceed to the following step.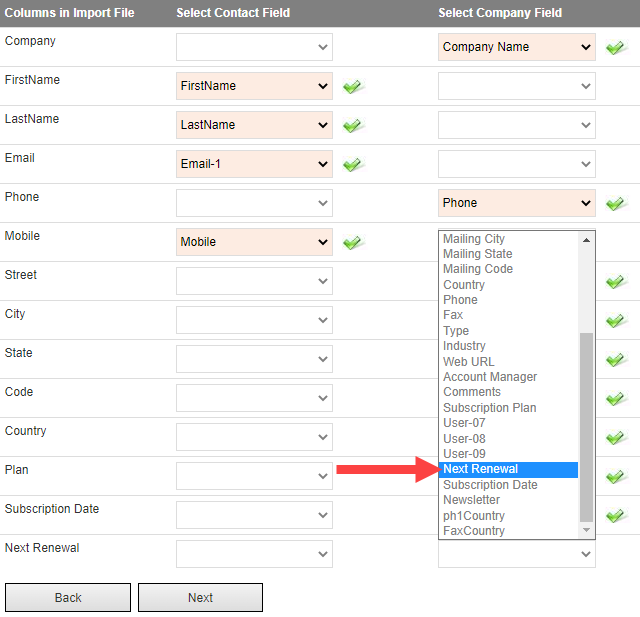 3. Review Data
Legrand Cloud CRM searches for records that may already exist in your CRM database to avoid duplicating records. Select the data fields below to find potential matching records that contain the same information from your Excel file. In the example, all the data fields have been selected to search for existing CRM records that may contain the same information. Click 'Next' to proceed to the following step once you review the information.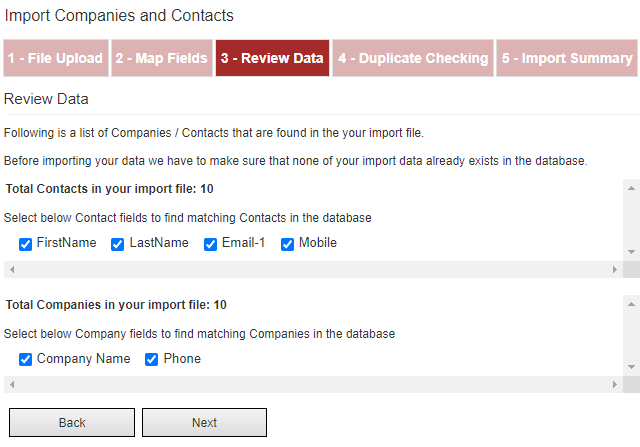 4. Duplicate Checking
Legrand Cloud CRM displays duplicate records in the following screen. In the example, a duplicate record for the company 'Energy Plus Industries' has been found. Legrand Cloud CRM presents two options for duplicate records. You can overwrite the existing database record (replace the record with the information in the Excel file). Alternatively, you can keep the database record. Click 'Next' once you select an option.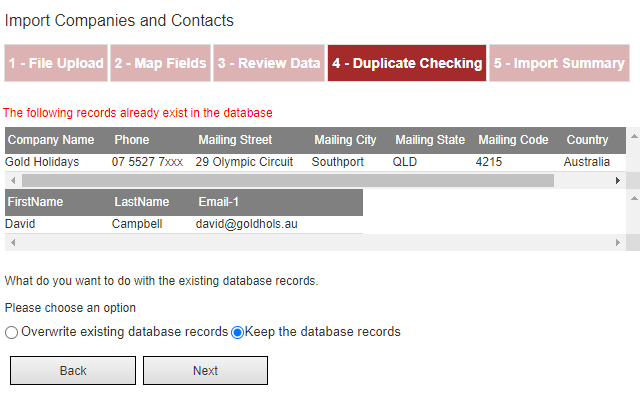 5. Import Summary
The following screen provides a summary of the data imported into Legrand Cloud CRM.