Click on the blue icon in the modules menu.

Select 'Create Opportunity'.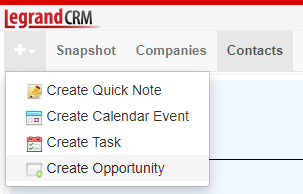 Enter information about the opportunity in the following fields: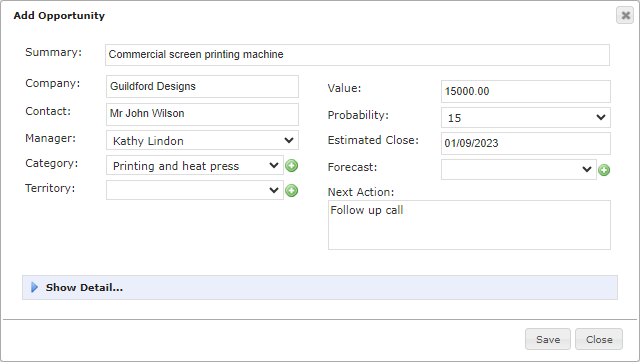 Contact: Click the contact field to select an existing contact or create a quick company and contact. Note that the company field automatically populates when you select a contact.
Manager: The team member responsible for managing the opportunity.
Category: Categories help sort opportunities you receive for different products or services. Click on the green icon to define categories.
Territory: You can segment prospects based on geographic location for reporting purposes or allocate specific sales reps to manage opportunities from certain regions. Click on the green icon to define territories.
Value: Estimate the value of the opportunity. You can use this for your own sales forecast and reporting.
Probability: Percentage likelihood of winning the opportunity.
Estimated Close: Estimate the expected date the opportunity will close. You can use this for external sales forecasting.
Forecast: The likelihood of winning the opportunity. E.g. forecasted, not forecasted or upside. Click the green icon to edit the forecast statuses.
Next action: Plan the next step in your sales process. E.g. Call the prospect for lead qualification.
Click 'Show Detail…' to enter additional information in custom fields.
Click 'Save' once you finish.