Legrand Cloud CRM presents the modules at the top of the screen. When you first login, you get an instant view of the Snapshot module. Click on the tabs to navigate between each module.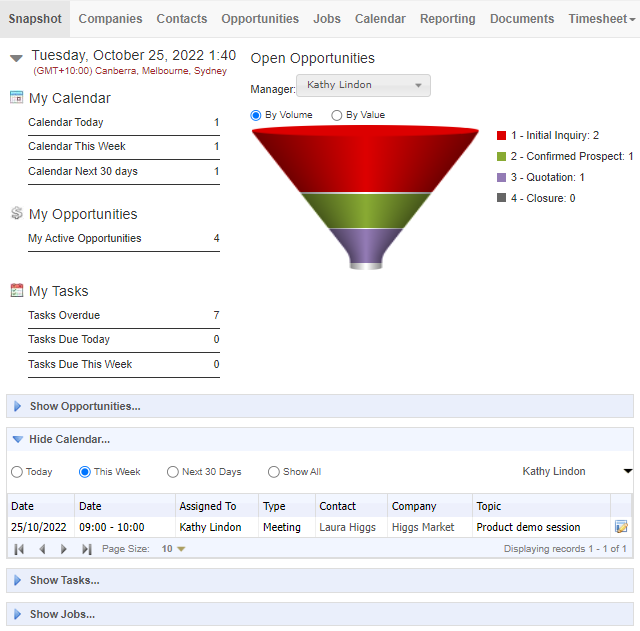 Legrand Cloud CRM Modules
The Snapshot provides a quick view of open opportunities, upcoming calendar events, tasks and jobs assigned to you.
The Companies module stores information about your customers, partners or leads.
The Contacts module stores information about individuals or employees associated with a Company.
The Opportunities module is where you manage leads as they go through stages in your sales process from initial contact to closure.
The Jobs module enables you to manage flat-rate jobs or hourly services you do for clients.
The Calendar module enables you to schedule appointments with company contacts and provides a shared view of your team's scheduled activities.
The Reporting module displays all the activity notes, calendar events and tasks created in Legrand Cloud CRM. You can use various sorting options and filter records created in the last 30, 60 or 90 days.
The Documents module provides a complete history of documents you attached to activity notes, opportunities, contacts and transactions in Legrand Cloud CRM.
The Timesheet module enables you to record billable hours spent on jobs.
The QuickBooks or Xero module is available when you Connect Legrand Cloud CRM to your accounting system. You can sync customers, view accounting transactions and follow up on outstanding balances from your CRM.
The module's display names are also configurable. You can change them to suit your preferences. For example, you can change 'Companies' to 'Accounts'. Click here to find out how to edit the module names.
NOTE: The Jobs and Timesheet module is only available in the Professional plan. The accounting integration is available for users on the Standard and Professional plans. See our pricing plans here.
Account Name and Account Number
On the top right of the screen, you can find your account name, account number and user name. The account number is a five-digit code used to identify your account and to set up the Legrand CRM Outlook add-in.

Account Settings
Click on the icon next to your user name to open the settings. Subject to user permissions, you can edit account details, import data, manage users, set up the accounting integration, and more.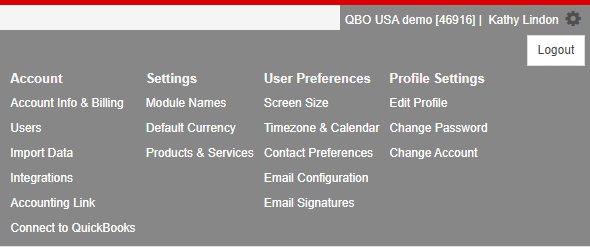 Online Help & Legrand CRM Outlook Add-in
For quick access to our online help articles, click on the icon next to the settings and select 'Online Help'. You can also find links to download the Legrand CRM Outlook add-in or Gmail extension in Legrand Cloud CRM.