A 'QuickBooks' module is available in the menu once you successfully connect Legrand Cloud CRM with QuickBooks Online.
Go to the QuickBooks module and click 'Sync Settings' on the left sidebar.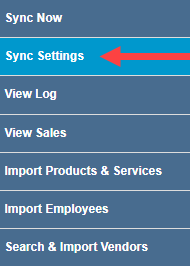 The direction of data transfers, update display name field, sync frequency and suppliers.
The default settings for contact updates are from QuickBooks Online to Legrand Cloud CRM. However, you can change the direction from Legrand CRM to QuickBooks Online. You can also decide whether to update the 'Display name as' field in QuickBooks, specify the sync frequency and whether you want to import suppliers into Legrand Cloud CRM.
Specify your sync settings and then click 'Save Settings'.