Tags are unique identifiers used to segment Companies or Contacts into lists. You can use tags to group companies or contacts based on common characteristics. For example, you can create a tag to group companies based on their location, product interest or priority. Once you tag a company, you can use the tag to filter company records.
NOTE: Tags used in the Companies module are separate from tags in the Contacts module. Go to the Contacts module to create and add tags to contacts.
How to Create a New Tag
Go to the Companies module, select a company and click 'Add/Remove Tags'.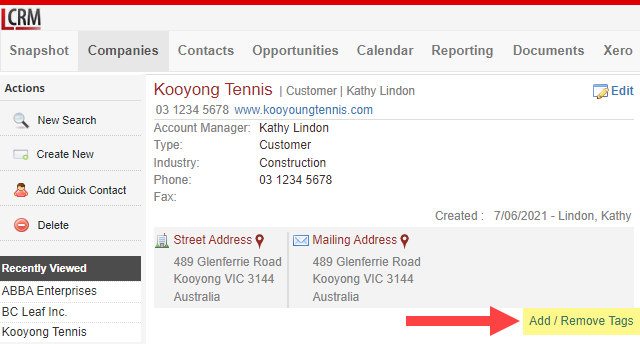 Click 'Add New Tag'.

NOTE: Creating a new tag and tagging company records are subject to user role permissions. The Account Owner and Manager have full permissions and can set permissions for users with a 'Standard' role. If you are an Owner or Manager, click the settings icon next to your profile name and select 'User' to manage user role permissions.
Enter a name for the tag and click 'Save'.

How to Add Tags to a Company
When you create a new tag, it should appear in the 'Available' list. Click on the blue arrow to add the tag to the company.

Once you add the tag, click 'Save' and exit.

When you tag a company, you can click the tag within the company record to view a complete list of companies within the same list.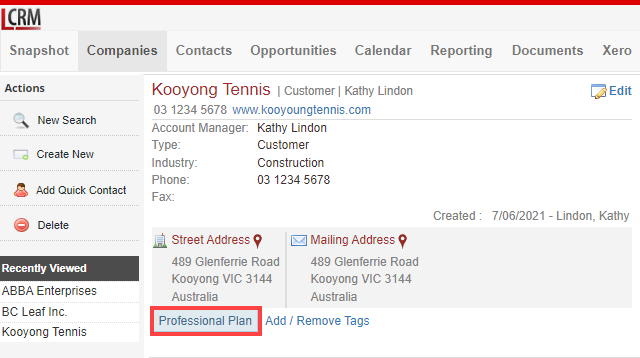 How to Filter Companies by Tags
Go to the Companies module and click on the 'More Options' section.

Click on the 'List by Keywords' drop-down filter and select a tag.

The companies using the selected tag are listed below.